News
Training Workshops on Eurocodes for Designers
The USCC together with the Guild of Design Engineers in Construction launch training workshops "Design of bearing building structures according to the European norms" for upgrading skills of the experts in design.
Workshop dates: November 26 - December 1
The training course includes lectures and practical complex calculated tasks of construction engineering design:
Changes in legislation and regulatory framework of Ukraine
Fundamentals of reliability, loads and actions according to Eurocode 0 and Eurocode 1
Bases and foundation according to Eurocode 7
Steel structures according to Eurocode 3
Light-gauge steel framing according to Eurocode 3
Fire proofing according to Eurocode
Concrete structures according to Eurocode 2
Composite steel and concrete structures according to Eurocode 4
Masonry structures according to Eurocode 6
Timber structures according to Eurocode 5
Joints and connections according to Eurocodes
Calucaltion automation according to Eurocodes
Energy saving and certification of buildings - the European norms and experience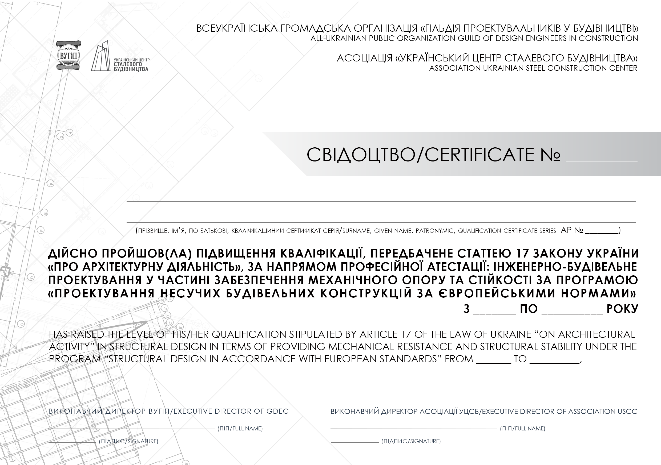 The participants who have completed a full training course and passed a respective examination will receive an a diploma (certificate) of professional advancement.
The diplomas (certificates) will be considered as documents on professional advancement which the certified performers have to pass every five years.
If you wish to take part in the workshop you need to fill out the form
for natural
or
legal person,
download and sent to the e-mail: nmcp-kyiv@ukr.net.
Order form for natural persons
Order form for legal persons and individual entrepreneurs